360 waves is a popular hairstyle worn by Black men and achieved through constant styling and brushing of one's hair in a specific way. The round wave pattern that develops of the cowlick over time gives this hairstyle its name. If you have really short or curly hair starting at the base, you can easily carry this style if you have the patience and a few essential pieces of equipment and knowledge on how to do it.
360-degree waves, formerly known as "brush waves" due to the amount of brushing required to create the waves all the way around the head, have grown in popularity among men with naturally curly hair. Whatever the case, Black guys were always known to wear waves in a pattern.
It not only helps your hair look tidy, but it also draws attention to your hair in any situation and event. Everything you want to learn about getting 360 wave patterns and more are included in this article. Here are five easy steps that can help you get the 360 waves hairstyle:
1. Get a Low-Tapered Haircut
360 Waves. Notice how the waves spin from the crown of the head. Source: Kado via Instagram
The first step is meeting a professional and skilled barber and asking him to provide you with a tapered haircut. Each wave journey must begin with a haircut. Your haircut will change depending on where you are in the wave journey. You should start fresh with a low haircut if you are only beginning your wave journey. However, the first haircut for these waves will not have to be too short if you've been waving for some time.
2. Maintain a Healthy and Clean Hair Bed by Washing and Conditioning
As it is always best to read the ingredients and components of anything that you purchase to consume and apply yourself, the same should happen when you take care of your hair. To preserve the cleanliness and moisture in your hair from becoming dry, shampoo and condition it.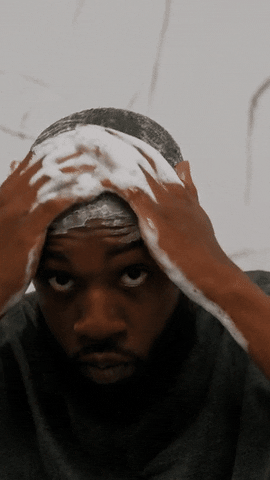 Brushing while shampooing is great for 360 waves.
When shampooing and conditioning the hair, use all-natural products. This will maintain the hair's hydration and healthy look. Make sure to brush your hair with a wave brush throughout the shower while shampooing. Each time you take a shower or even when your hair is damp, you must make it a practice to brush your hair.
We recommend washing your hair up to three times a week and conditioning your hair daily. To replace the oils shed in the shower, use a conditioner every time you shampoo, letting the conditioner sit for up to two minutes before rinsing out. Some wavers use conditioners to keep their hair moisturized instead of shampooing it.
3. Apply a Water-Based Pomade for Styling
Water-based pomades are better for styling 360 waves and don't leave a greasy mess like petroleum-based pomades.
Water-based pomades are basically products that help your hair hold a specific hairstyle through a gel-like substance that is
not greasy and messy
. Applying your preferred pomade is necessary after shampooing your hair. The purpose of the pomade is to maintain smooth and hydrated hair.
Additionally, it aids in flattening the hair, which is perfect for forming waves. A dime-sized amount of pomade should be applied to the hair, and it should be worked through. After that, brush your fingers over the hair in the exact direction you would do when using a brush.
4. Brush Your Hair From the Crown of Your Head
Soft and medium wave brushes offer the best of both worlds for wavers.
Now comes the time to brush your hair from the crown of your head and outward to create the 360 waves hairstyle you require. Use a gentle brush when getting your hair cut for the first time. It would help if you began to use the medium bristle brush as the hair grows. There are also hybrid wave brushes with medium and soft bristles for maximum versatility. (If you have kinky hair, such as 4A, 4B, or 4C hair, then a medium to hard bristle brush in combination with a soft bristle brush is highly recommended.)
Beginning at the crown of your head at the rear- brush your hair forward, towards your forehead, sides, and back. Repeat between five and fifteen more times. The fact that this is the one thing you must do consistently to obtain and maintain waves. Get into the habit of constantly brushing your hair inside the shower, at home, while watching TV, in the bathroom, or wherever. Bring your hairbrush to work or school. Brush again and again, as much as you can (when your hair is not compressed.)
5. Compress Your Hair
Compressing your hair is the last but most crucial step of getting the 360 waves hairstyle, as compression locks in the moisture and protects your hairstyle to stay in shape for a long time. You can either wear a durag or even a wave cap to save the texture of the hair that you have just created.
A durag is a silk garment that keeps your hair laid in a wavy pattern. The durag should be placed on the head so that it is pressed down but not so tightly that it causes you pain. Every day, immediately following your brushing session, and while you sleep, you must wear the durag. You should wear the durag for at least one hour following brushing sessions, but it is best to wear it for extended periods as it helps intact the moisture and the hairstyle effectively.
Alternatively, wearing a wave cap can achieve the same goal of compression. It's a preferential question of using a durag or a wave cap. The difference between a durag and a wave cap is that the former allows you to tighten to your comfort, whereas the latter is a one-size-fits-all compression level and may lose its tightness over time.
Putting It All Together
Maintaining or achieving 360 waves is relatively easy. The video above quickly illustrates the process. However, achieving this hairstyle requires a lot of dedication and consistency. Using the right products and the effective technique mentioned above can quickly help you achieve this look that not only would look good on you but will also make heads turn where ever you go!